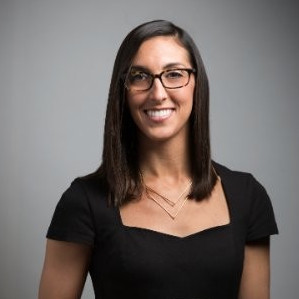 Jessica Anselmi started her career in public relations, but after realizing her desire to be more involved in product development & marketing strategy, she pivoted to an in-house innovation & marketing role at Dunkin' Brands. At Dunkin, she mined trends, created product roadmaps for her categories, tested/launched new innovations and ultimately, helped set the strategy for the marketing organization — while also finding the time to A) get an MBA and B) take a short sabbatical to Spain, a bucket list item. As Director of Innovation & Category Growth for Panera Bread, she leads cross-functional teams in developing & launching new products, putting into practice the skills she's learned along the way. We had the chance to chat with Jess about navigating career pivots and building your own vision of professional success.
CareerSchooled: We love to ask people what their first job was, so what was your first job and what kind of connection (if any) does it have to what you do now?
Ironically, my first "real" job was at my neighbors' coffee shop in Franklin, MA – it's since closed, but it was called MelDiva and I loved working there. Meldiva was our town's local hangout – great drinks, good food and live music on the weekends. When I moved on to study marketing in college, I always went back during winter breaks and it actually helped lay the foundation for the product innovation work I do now – food and beverage innovation for Panera Bread, and formerly for Dunkin' Donuts.
CareerSchooled: You decided to go back to school to get your MBA while working full-time. What led you to make this move, and how did you manage to juggle working and school at the same time?
I started out my career in public relations, which I really enjoyed, but after 5 years in the field servicing a range of consumer product & technology clients, realized I wanted to expand beyond execution and try my hand at setting product development & marketing strategy. To me, a public relations skill set and agency experience transitioned nicely into a fast-paced marketing role at Dunkin', and while I got the job, I could tell not all were convinced the skills were transferrable. So, I put my head down and worked my ass off for a year to establish myself & show the team I was willing to do whatever it took to learn.
The approach worked, but I still wanted to bolster my learning since many of the other brand managers had MBA's. So, off to BC I went  – worked full-time and went to school part time for 3 years. It was a lot to juggle but I loved my work & the educational piece supported that, so it felt more like an opportunity to than a burden.
Careerschooled: One of your roles in your career was serving as a Chief of Staff, which is a unique role. What was that experience like, and what did you learn from it?
Yes, Chief of Staff is a unique role and one that's becoming increasingly common in large organizations. I was honored to be selected and worked hard to establish myself as a resource to the Dunkin' CMO, who I supported. The role exposed me to new functional areas such as Investor Relations, where I acquired hard skills, and Organizational Development, where I observed the soft skills necessary to drive effective organizational change.
Having a seat at the table with the executive leadership team and exposure to a range of different, yet effective leadership styles was invaluable for me so early in my career. I will always be grateful for the experience.
CareerSchooled: Back in 2017, you decided to take a sabbatical from work. What led to this decision, and what did you learn from this experience?
Best 3 weeks of my life! After completing BC's MBA program, I knew I needed some time off. My manager & I had a really strong relationship so in addition to being honest about how I needed some time to reset, I went to him with a plan for the when & how things would be managed during my 3 week absence. He was very receptive & off I went a few months later to complete one of my bucket list items: hiking a portion of Spain's Camino de Santiago.
I can't even begin to get into how transformative the experience was but the biggest lesson for me was that the work will always be there and you need to make & take the time to live your life outside of the office. In turn, you'll come back a rejuvenated, more inspired team member & leader.
CareerSchooled: What advice do you have for people out there who are considering taking a sabbatical – how do you know when you might need one, and how can you use it to help you in your personal and career aspirations?
I don't actually view my trip as a formal sabbatical, as I took my allotted vacation time in once chunk. So as a starting point, that could be a way to take a "sabbatical" even if your company doesn't formally offer a sabbatical program. For me, it was a way dip my toes back into the travel arena without my career taking a hit. Since that trip Summer of 2017, I've been much more mindful about prioritizing travel, which is very important to me. (Pro Tip: Here's some good advice for how to ask your boss)

CareerSchooled: In your career, you've worked in a variety of roles across a number of different companies and industries. How have you thought through role/job changes, and when do you know when it's time to pursue a new opportunity?
I'm likely in the minority when I can honestly say I've always enjoyed my line of work & have been fortunate to never dread Monday mornings. But, I believe you inherently know in your gut when it's time to take a new opportunity. A role change should never come negative place – it should come from a place of feeling something is off & that you're not as inspired or motivated as you've previously been. They say if some element of a role doesn't intimidate you, then you're in the wrong role. I believe that wholeheartedly, and try to seek out opportunities to grow into.
CareerSchooled: What's the best piece of career advice you've received, and how do you try to apply it as you make progress in your own career?
Hands down, words from Carla Harris – whom I had the pleasure of hearing speak at a conference: "perception is the co-pilot to reality." Your beliefs & thoughts about yourself manifest in your words & actions and ultimately, influence others' view of you. So I try and operate from this lens: what you think, how you speak, your body language – they're all the sum of what become your reality.
CareerSchooled: How do you define success in your own career?
Success has had a fluid definition for me over the years. Early on, it was the more traditional form of success. Hard work resulting in praise & promotions – all of that validation meant a lot to me. And while it's still important, I've become much more balanced. As a leader, there comes a point when people know you have the hard skills, but you need to grow into the soft skills. You have to sit back, coach your teams & give others the space to grow.
When it comes to my career, I would sum it up as a dance between letting it happen and making it happen, which I believe Arianna Huffington once said. I've never been a good dancer but over time, you learn that each step can't be planned and to make room for spontaneity. There are various stages of ebb & flow.